Louvres make life a breeze
Louvres make life a breeze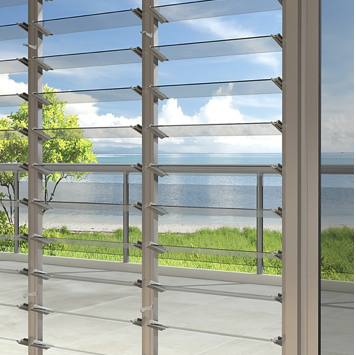 In the cyclical, fickle way of fashion, louvres have again become a popular choice as a stylish alternative to conventional windows, as they offer the combined benefits of a cool home and reduced energy costs.
At a time when homeowners are being urged to find alternatives to the energy-guzzling air conditioner, louvred windows actually make a lot of sense.
The slats (or blades) can be set to capture cooling breezes from all directions, offering one hundred per cent ventilation when they are fully opened.
Where conventional windows open at either the top or the bottom, thus enabling only one-way flow of air, louvres encourage the natural air flow, removing hot, stale air from the room and drawing in cooler fresh air.
They also put you in control of the amount or strength of the breezes that come into your house.
You can have the windows open during summer storms, as the angle of the slats can be set to deflect the rain without blocking the flow of air into the room. In the fully closed position, on the other hand, louvred windows will maintain the room temperature as well as any standard window.
Now in timber, metal and (clear or satin/opaque) glass, louvres can be installed outside or inside, not only as a practical solution for ventilation but also as a design feature for your house.
Image: Klimat